Wisebuddah named Best Production Company
Wisebuddah has been crowned as Production Company of the Year at the Audio Production Awards in London.
Overall 21 different independent production companies won a total of 32 awards, along with several national and local BBC stations, plus a range of grassroots and commercial broadcasters picking up awards. The freelance community was also well represented.
Out–of–London winners included Manchester's Reform Radio (Gold for 'Best Grassroots Production'), and Scotland's Gusman Productions (Gold in the Gethin Thomas Comedy Award).
The special Gold Award went to Jez Nelson, co-founder of production company Somethin' Else, and former pirate radio, BBC and now Jazz FM presenter, for his outstanding contribution to radio.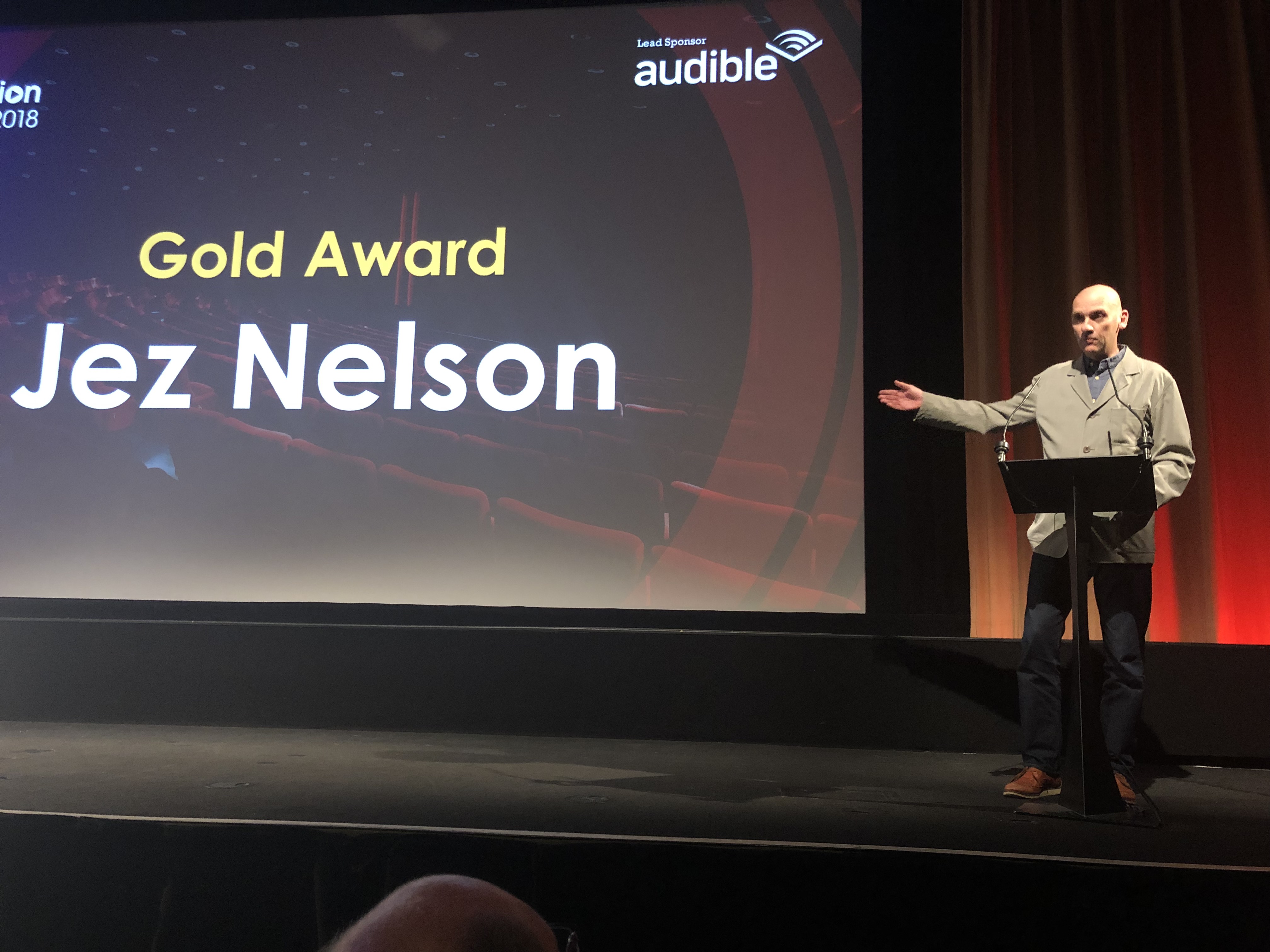 In audiobooks, Sweet Talk Productions' Karen Rose won Gold for Best Audiobook Producer, while illustrator Oliver Jeffers (HarperCollins) won Gold in the new 'Audio Performer of the Year' category.
Podcast winners included a 'New Voice' Gold for Table Manners producer Jessie Ware. BBC Radio 1's Tamsyn Kent won Gold for 'Best Podcast Producer' and Muddy Knees Media, producer of the Totally Football Show, picked up a Bronze Award in the 'Best Sports Producer' category.
Will Jackson, Managing Director of AudioUK, which organises the APAs, said: "It's great to see a good range of winners, showing the effectiveness of our blind judging process. In the year when we rebranded to AudioUK to reflect the wider activity of the production sector, it's also very encouraging to see podcast and audiobook professionals winning not just in their specialist categories but across others too.
Commercial radio also had some success and we hope that will continue to grow as a result of producers working more with stations, as a result of the forthcoming Audio Content Fund."
Steve Carsey, Senior Director of Original Programming, Audible, said: "More people than ever are enjoying expertly-produced audiobooks, dramas, podcasts and radio, and at Audible we're excited to be part of this evolving landscape, investing an increasing amount in a huge range of innovative listening experiences across all genres. We're very proud to join AudioUK again this year in recognising excellence and craftsmanship of producers, presenters, technicians, sound- designers and performers in this vibrant industry. Congratulations to all the winners and nominees."
Congratulations to @wisebuddah for winning 'Production Company of the year' at the Audio Production Awards 2018 #audibleAPAs18 pic.twitter.com/RrSaJSwD7s

— The VO Network (@NetworkVO) November 22, 2018
BEST ARTS PRODUCER
This category celebrates the best of arts and culture-based audio, reported and produced to the highest of standards, giving a sense of special insight into the subject.
Andrew McGibbon, Curtains For Radio SILVER
Anna Scott-Brown, Overtone Productions
Jo Wheeler, Freelance
Mair Bosworth, BBC Radio 4
Michael Umney, Resonance/Reduced Listening GOLD
Victoria Ferran, Just Radio Ltd BRONZE
BEST MUSIC PRODUCER
This award is for an exceptional producer working in music audio. Entries can range from single programmes and documentaries to sequence programmes, as well as specialist music programming, live music and discussion.
Jax Coombes, BBC 6 Music
Natalie Steed, Freelance
Nick Harris, Absolute Radio BRONZE
Ollie Wilson, Somethin' Else
Paul Smith, Just Radio Ltd SILVER
Steve Urquhart, Listen To Steve GOLD
BEST FACTUAL PRODUCER
This category is for non-news based factual programming. The judges will be looking for a strong storytelling capability and a crystal clear, gripping narrative, plus compelling and creative production values that resonate with the audience.
Dom Byrne, Greenpoint GOLD
Jo Wheeler, Freelance
Kate Cocker, Reform Radio
Katherine Godfrey, Whistledown Productions BRONZE
Natalia Golysheva, Freelance
Sue Nelson, Boffin Media SILVER
BEST NEWS AND CURRENT AFFAIRS PRODUCER
Celebrating the best in news and current affairs production. Entries here should be from programmes which are clearly led by the current affairs agenda.
Gabriela Jones, Wisebuddah SILVER
James Shield, The RSA BRONZE
Robert Nicholson, Whistledown Productions
Rory Carson, BBC Radio 5 Live GOLD
Siobhann Tighe, BBC Radio 4
Tim Johns, BBC Radio 2
BEST SPORTS PRODUCER
Entries can feature outstanding, engaging sports programming from many formats; from live daytime programmes to round-table podcasts, but they must relate to sports in a clear and defined way.
Ben Green, Muddy Knees Media BRONZE
Ben Mundy, BBC Radio 1 Newsbeat GOLD
Mark Sharman, TBI Media
Tom Whalley, Freelance SILVER
BEST ENTERTAINMENT PRODUCER
Recognising producers who successfully create fresh and fun entertainment content. For example, entries might be drawn from live programmes and/or light-hearted podcasts.
Brian Murphy, Magic Radio & Absolute Radio
Claire Solan, Absolute Radio BRONZE
Darby Dorras, Somethin' Else SILVER
Dave Masterman, Absolute Radio GOLD
Ed Morrish, Freelance
Peter Curran, The Foghorn Company
GETHIN THOMAS COMEDY AWARD
All comedy-based audio can be entered here, including sitcoms, scripted comedy, sketch shows or comedy-led panel shows. Any format with the primary aim of making people laugh fits the bill. The category is named in honour of the pioneering Welsh comedy producer and performer, Gethin Wyn Thomas, who died suddenly and prematurely earlier last year.
David Tyler, Pozzitive
Ed Morrish, Freelance SILVER
Gareth Gwynn, Freelance
Giles Gear, Union JACK Radio BRONZE
Gus Beattie, Gusman Productions GOLD
BEST LIVE EVENT/OUTSIDE BROADCAST PRODUCER
Entries here may span a wide range of formats and subject matter. The key is that they must have been created in a live broadcast setting.
Annabelle Buckland, JACKfm HIGHLY COMMENDED
Chris Evans Production Team, BBC Radio 2 GOLD
Chris Gilvear, Jazz FM SILVER
Mark Carter, BBC Sussex & BBC Surrey BRONZE
Nick Carter, BBC Radio Cambridgeshire
BEST PODCAST PRODUCER
Celebrating an outstanding Podcast Producer who truly understands the special possibilities of the medium.
Eva Krysiak, Freelance BRONZE
Lucy Dearlove, Freelance
Mike Holt, BBC Radio 5 Live SILVER
Neil Cowling, Fresh Air Production
Sue Nelson, Boffin Media
Tamsyn Kent, BBC Radio 1 Newsbeat GOLD
BEST DRAMA PRODUCER
Recognising exceptional producers who know how to bring the story, characters and narrative to life in listeners' minds.
Boz Temple-Morris, Holy Mountain
David Beck & Katie Arlett, Wireless Theatre Company, Audible Studios
Kate Valentine, Digital Drama BRONZE
Laurence Bowen, Dancing Ledge Productions SILVER
Nicolas Jackson, Afonica GOLD
Simon Barnard, Bafflegab Productions
BEST AUDIOBOOK/READINGS PRODUCER
Judges will be looking at the range and choice of material, performance, direction and production values here. Producers can enter an unedited section from a single book/reading or extracts from several books/readings.
Chris Thompson, Heavy Entertainment SILVER
Karen Rose, Sweet Talk Productions GOLD
Natalie Steed, Freelance BRONZE
Roy McMillan, Penguin Random House
Samuel Gunn, Heavy Entertainment
Tanya Hougham, Harper Collins Publishers
BEST NEW PRODUCER
Celebrating a newcomer to audio production who shows potential to reach the very highest level.
Hannah Dean, Freelance
Jonathan O'Sullivan, TBI Media BRONZE
Nathan Gower, Whistledown
Nick Harris, Absolute Radio GOLD
Shanida Scotland, Falling Tree Productions SILVER
Stuart Russell, Eyebrow Media
BEST STATION SOUND PRODUCER
For exceptional contributions to audio imaging and/or station sound production.
Ben Stones, BBC Radio Pop Hub Station Sound SILVER
Carl Kinsman, Q Radio
Dan Prior, Absolute Radio BRONZE
Gordon Lundy, Absolute Radio
Liam Hadley, BBC Radio Pop Hub Station Sound GOLD
Stan Was, BBC Radio 4
BEST SOUND DESIGNER/ENGINEER
Celebrating the talents of sound designers, mixers, studio managers and others who create startling soundscapes that elevate audio from great to extraordinary.
Adam Fowler, Overtone Productions
Alasdair McGregor, Holy Mountain BRONZE
Antony Shaw, TBI Media
Eloise Whitmore, Naked Productions SILVER
Steve Bond, Freelance
Steve Urquhart, Listen To Steve GOLD
GRASSROOTS PRODUCTION AWARD
For an individual, production company, radio/audio station or community-based organisation that has shown extraordinary achievement in identifying, nurturing or mentoring new and diverse talent to the audio industry.
PRA Productions/Prison Radio Association
Reform Radio GOLD
Radio Wanno – HMP Wandsworth SILVER
Resonance BRONZE
Transmission Roundhouse
Women's Radio Station
AUDIO PERFORMER OF THE YEAR
Recognising and rewarding a performer who has demonstrated exceptional talent at interpreting the written word over the year, as exemplified by a single outstanding piece of work or a body of work. This could include narrators of audiobooks or actors in an audio drama.
Bill Nighy for Penguin Random House SILVER
David Rintoul for Penguin Random House Audio
David Walliams for HarperCollins Publishers
Jacob Anderson for Penguin Random House BRONZE
Lee Ingleby for Penguin Random House Audio
Oliver Jeffers for HarperCollins Publishers GOLD
BEST PRESENTER – SPEECH
For exceptional on-air talent presenting speech programmes. Compelling conversation, high production values, brilliant interviews, a sustained contribution to the genre, outstanding creativity and deep-rooted connection to the audience.
Abdul-Rehman Malik, TBI Media
Andrew Mueller, Monocle 24
Cole Moreton, TBI Media BRONZE
Justin Dealey, BBC Three Counties Radio GOLD
Nihal Arthanayake, BBC Radio 5 Live
Tony Livesey, BBC Radio 5 Live SILVER
BEST PRESENTER – MUSIC
For exceptional on-air talent presenting music programmes. Unrivaled understanding of their chosen music genre(s), the ability to share that passion, plus constant creativity, strong production values and powerful audience connection.
Cerys Matthews, BBC Radio 2 & BBC 6 Music
Emily Segal, heat radio
Lauren Laverne, BBC 6 Music BRONZE
Ruthie Henshall, Mellow Magic
Steve Lamacq, BBC 6 Music SILVER
Trevor Nelson, Somethin' Else for BBC Radio 2 GOLD
NEW VOICE AWARD
For outstanding presenters who have recently entered the audio world or recently gainedsignificant mainstream presentation recognition for the first time.
Blanche Girouard, Freelance
Jessie Ware, Table Manners GOLD
Julia Raeside, Great Big Owl
Martin Morales, Blok Media SILVER
Frankie Wells & Anouszka Tate, Project Pleasure – Transmission Roundhouse BRONZE
Ronan Keating, Magic Radio
GOLD AWARD
Jez Nelson, CEO at Somethin' Else
Recognising and celebrating an individual who has made an outstanding contribution, usually over a number of years, to the audio sector in the UK.
PRODUCTION COMPANY OF THE YEAR
This award recognises and celebrates a company's success across the year.
Naked Productions
PRA Productions – Prison Radio Association
Reduced Listening SILVER
Somethin' Else
Whistledown BRONZE
Wisebuddah GOLD